FITBIKE FAQs
Just sign up once and let us know when you want to service your bike. FitBike makes no claims as to what distance your gear needs service. Then ride your bike! After your bike reaches the service distance you've indicated, a notification email will be sent to you. You'll only recieve one email notification per alert. To recieve future alerts, you'll need to revisit FitBike and update the alert distance. You can turn on or off your Tires, Chain, Brakes, Shocks, and Cables alerts as needed.
Yes, and I have no plans to monentize it. But, if you like the service,please consider a contribution.
I've always been curious why Strava only offers gear alerts for running shoes but not for bikes. Then one day I noticed that Strava's API exposed bike gear distance, AHAH! That meant that I could build an app that could send email alerts based on distance. FitBike has always been just a hobby for me, I like building things. I have no idea if Strava will ever offer email alerts for cyclists. But, for now FitBike can provide a simple option. RideON!
To limit my Strava API usage, I only query bikes two times a day to see if service is needed (UTC time 12:00am and 12:00pm). This means you could see a delay up to 12 hours between when you save your Strava ride and when you get a notification.
Wear and tear depends on a number of factors, including what type of rides you do, how much you weigh, the conditions you ride in, front vs rear tire, etc. Consult an experienced bike mechanic for suggestions. FitBike makes no claims as to what distance your gear needs service. When setting alerts it's always best to err your estimate on the low side. Regardless, always give your bike a thorough inspection before and after each ride.
Sorry, not until Strava API exposes time through their API will this be possible. Unfortunately, I don't see Strava making any changes although it's been requested.
As a former road and mountain bike racer, I understand this request. However, this would require users to frequently update their bikes. My goal is rather to "set it and forget it" with as few interactions with the app as possible.
Simple! Just do a Google image search, find a bike that looks like yours, then right click copy/paste the image url into your custom url when editing your bike. Here is a quick how to video. To avoid odd resize your bike image should be hortizontal (16:9)
When you edit your service alerts, notice the check box next to the alert type. If you turn that off, you won't get those notifications. It's useful for example when you have a road bike and don't want any notifications regarding shocks. In example below, I've turned off Brakes and cables.

New users must update the notification email address after signin from witin the "My Strava Bikes" page. If no valid email address is entered Fitbike will eventually delete the account.The email address entered is used only to send you notifications, it has nothing to do with your user ID or name.
FitBike will not share or sell your information. FitBike uses Oauth signin protocol so that we can access your bike's distance and your contact information. Oauth allows your Strava account and password to remain secure.
You can delete your account by going to your Strava My Apps and revoke FitBike's app privledges. This will remove your FitBike user account and your FitBike data.
This article describes how to add icons to your Smartphone or Tablet
If you set Interval "ON" you will recieve a notification based on a predefined interval distance and not target distance. A new notification will be sent at every interval. Example: you have 4 bikes that need chain service every 200 miles.See Interval Demo. In example below, I've turned on interval alert just for the chain. Note: I think it's thoroughly tested, this but please let me know if you encounter any strangeness.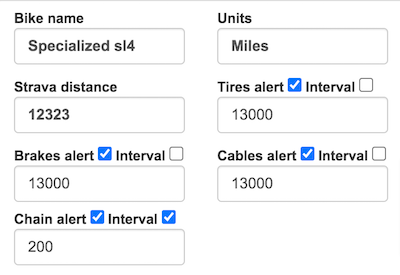 To fix this use "show all parts" and see if any values are set to less than 1. If yes, clear the entry or put in a number greater then 0.